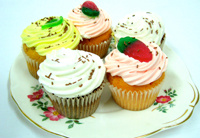 Sweeney's Fine Foods bakery all started off in 2007 with the simple scone. Having taken time to perfect a light and soft texture we developed on from the classic fluffy plain scone to a zesty lemon, fruit and wholemeal scone. Since then our famous signature scones have taken on a life of their own. Delicious with a dollop of whipped cream and our homemade jam.

Nowadays we produce an extensive range of sinfully delicious baked goods. Everything from custard slices to chololate eclairs, almond tartlets to buttercream frosting cupcakes, and all kinds of individual desserts. Why not Indulge your sweet tooth with our mouthwatering treats.

We also make a range of layer cakes for all occasions such as birthdays, christenings and anniversaries.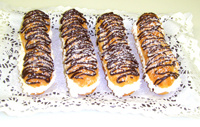 Our bakery also take pride in our authentic bread range. We bake everything from a traditional French soft bread, a rustic Italian crust, an old fashioned Irish brown bread or even a health conscious Low GI Bread.
We always bake fresh on site each day and throughout the day with high quality ingredients to provide you with the best of products.