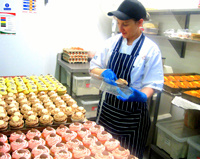 Paul Sweeney has been involved in the food industry all his working life, as a result he is deeply passionate about high quality food. Coming from a farming background Paul must insist on the finest and freshest ingredients and he always aims to support local producers whenever possible. He realises that the most important factors to business are the quality of raw materials, standard of produce and customer satisfaction. To this end Paul carries these same principles in his much loved retail and catering family businesses.

Sweeney's Fine Foods has been established in the Corballis Shopping Centre of Ratoath since 2007 and since then has worked hard to gain an excellent reputation for great food at affordable prices. At the crack of dawn each day our bakery is in full swing to ensure our name is on only the freshest of produce. We will ensure to offer only the finest catering for every occasion.

Sweeney's Fine Foods also take real pride in being an active member of the Ratoath community. We value our local customers, whether they meet at out cafe to chat with friends over a coffee and a scone, or take our food home to enjoy with the whole family. Our commitment to good quality food will guarantee you'll be delighted with choosing Sweeney's Fine Foods.