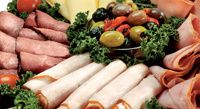 Welcome to Sweeney's Fine Foods. We offer a selection of premier catering options for parties and events of any size. Whether you require platters of sandwiches and wraps, or savouries and desserts, our friendly, professional team can deliver the perfect catering options. From birthday parties, to business seminars, our aim is to provide the best choice with the highest quality ingredients and affordable prices. Our flexible menu is designed to give you the freedom to mix and match to your exact budget and requirements.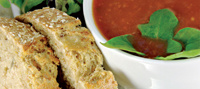 Large orders can be prepared with as little as 48 hours notice, while small orders can be prepared same-day and we even deliver to your home or business premises free of charge if within our standard delivery zone. Additionally, we have prepared a selection of healthy and filling family take-away meals, providing a convenient and cost-effective option for feeding the whole family. So make Sweeney's Fine Foods your first call, or visit us in Sweeneys Centra, Corballis Shopping Centre, Ratoath, to discuss your requirements in person.

We guarantee you'll be delighted - and so will your guests!
Visit us in Sweeneys Centra, Corballis Shopping Centre, Ratoath, Co Meath